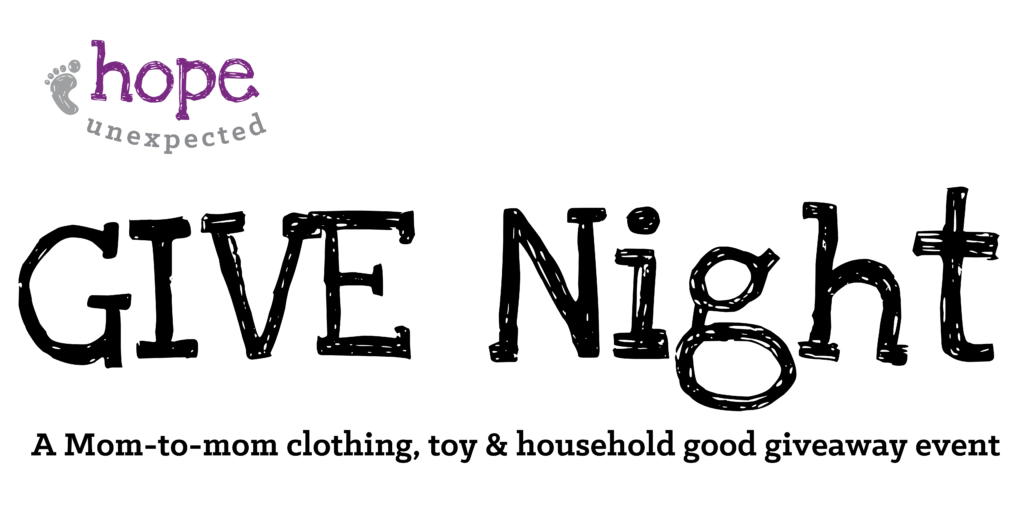 Spring cleaning is here! Do you have things you are looking to donate? We know things can accumulate quickly and spring is the time to clean things out! Do you have nice, gently used children's clothes OR Women's clothing (no stains or rips please), good working toys, OR household items that you want to get rid of? Yes, we have moms that would love to take them. You have the opportunity to be a blessing to our moms AND clean out your home!
Monday, May 8, 2023 6:15-7:45pm at Byron Center
Monday,  May 22, 2023 6:15-7:45pm at Grand Rapids West
On the above dates, we will have a GIVE NIGHT where the Moms involved in Hope Unexpected can shop for donated items free of charge during our regular Monday Meets and YOU can be a part of it! We will have limited tables available, so reserve yours today!
How Does It Work?
Sign up for a table by May 1, 2023 by emailing Abbie (abbie@hopeunexpected.org). Use the subject line "GIVE".
Prepare items to bring on the date listed above.
Arrive at your assigned location, Grand Rapids West or Byron Center at 6:15pm to set up your items (tables will be provided). Locations can be found at our website: www.hopeunexpected.org 
Please be sure to label sizes to make "shopping" easier. Please bring plastic bags so moms have something to put their selections in.
*Moms will be dismissed 10-15 minutes early (this is usually around 7:15 pm) from Faith Conversations to come and "shop" the tables of items.
*You will be responsible for staying with your items while the moms "shop", taking all leftover items home, and taking down your table.